Waste Collection Locations
Give us a call for a free quote and a fast hassle-free service.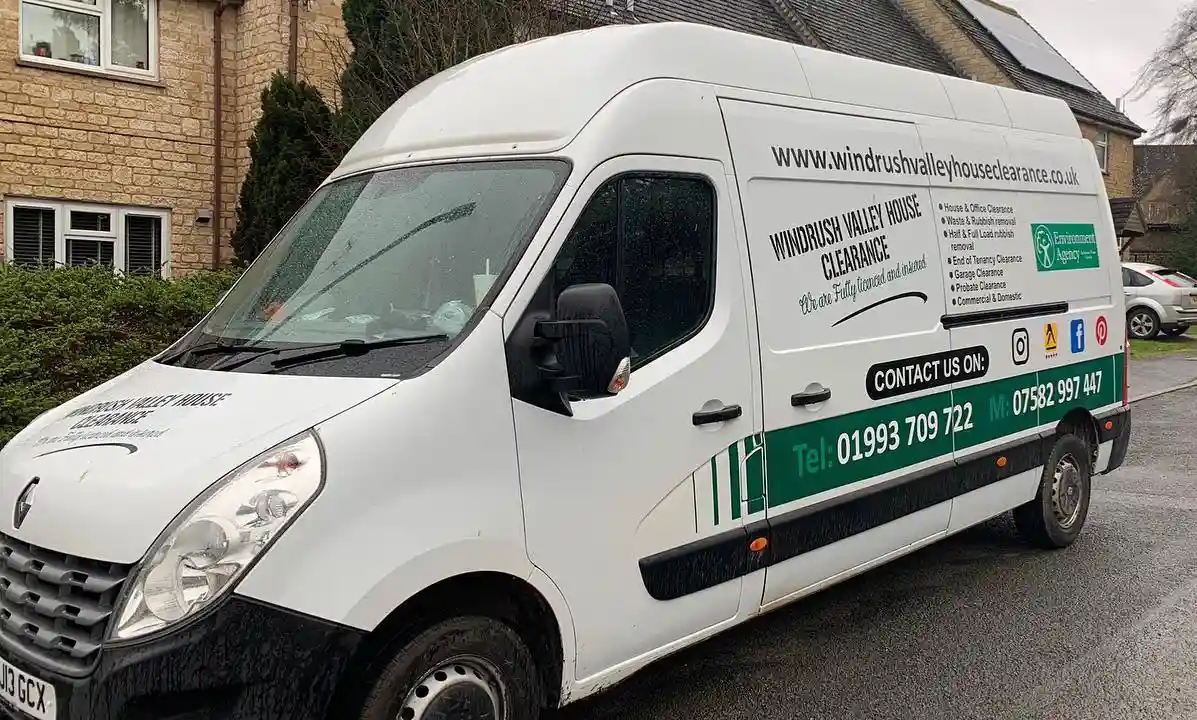 Waste collection locations in Oxfordshire and Gloucestershire, Berks, Bucks and Warcks.
We hanve many waste collection locations and Windrush Valley House Clearance is run by me, Mike.
I have worked in the house clearance trade for over 15 years and in this time I have built up a vast array of rubbish removal knowledge from where best to dispose of waste via Oxfordshire Pro recycling waste plants and being able to advise my customers on how best to go about their rubbish removal needs.
I have lived in Witney for the past 26 years and due to my fantastic working relationships with the local solicitors, property management companies and estate agents, I have been able to build a well-established reputation for being honest and hard-working.
Customer satisfaction is paramount to Windrush Valley House Clearance and that's one of the main reasons we have served multiple generations of local Oxfordshire families and family members who come back to us time and time again in many waste collection locations
If you are looking for a trustworthy, fully insured, Waste carrier licenced, family-run Oxfordshire-based waste removal company then look no further and call Mike today who will gladly give you some fantastic house clearance and furniture removal advice and get you booked in for a free no-obligation quote.
Mike will come out to your property and take a walk around with you answering any questions you may have.
Why choose Windrush Valley House Clearance as your property clearance experts?
Experts in environmentally friendly property clearance
Windrush valley house Clearances only use pro-recycling sites, recycling up to 98% of all waste disposed of.
We buy second-hand furniture, pine furniture, retro furniture, collectables and more.
property clearance experts are fully waste carrier registered with the Environment Agency and licensed to
carry waste. A copy of my licence and company registration number can be emailed to you upon request to give you peace of mind.
We also hold full public liability insurance.
Windrush Valley House Clearance can liaise with solicitors, neighbours or estate agents if customers are unable to be at the property due to other commitments.(Free Key drop service)
All our waste collection staff members are highly experienced, friendly and extremely professional.
property clearances don't have to be stressful if they're managed carefully.
Whether clearing the home of a deceased relative or preparing a house for sale or let, We make house clearances as hassle-free as possible.
For further information about our waste collection services please contact us here
Who are the waste collection experts?
Windrush Valley House Clearance is a well-established family business, with a strong team that is experienced in all domestic house clearance services. We pride ourselves in being professional at all times, aiming to make the job a stress-free experience for our clients in every waste collection location. We always listen to customers needs and tailor our waste collection services accordingly, giving firm quotes before work begins. We cover all areas in Oxford, Abingdon, Wantage, Witney, Wallingford, Thame, Bicester and all surrounding areas (We now cover most of Gloucestershire).
Our mission
Our mission is to tackle all of your house, flat, loft, office or garage clearance problems, however big or small, in an efficient, cost-effective, hassle-free way. We are the alternative to hiring a skip – no heavy work for you and it's all taken away on the spot. We recycle or reuse up to 98% of everything we take away and all waste disposal is carried out using environmentally-friendly procedures.
How we do waste collection:
There is no job too big or small for our dedicated waste collection team who are ready to clear your house anytime in all waste collection locations. We operate a 6 day a week service as well as same-day appointments and aim to deliver excellent clearance results every time.
Simply pick up the phone and speak to one of our friendly waste collection staff who can provide you with a free no-obligation house clearance quote.
Call Windrush Valley House Clearance on 01993 709722
Covering Oxford, Witney, Banbury, Bicester and all surrounding areas.