Hoarding House clearance service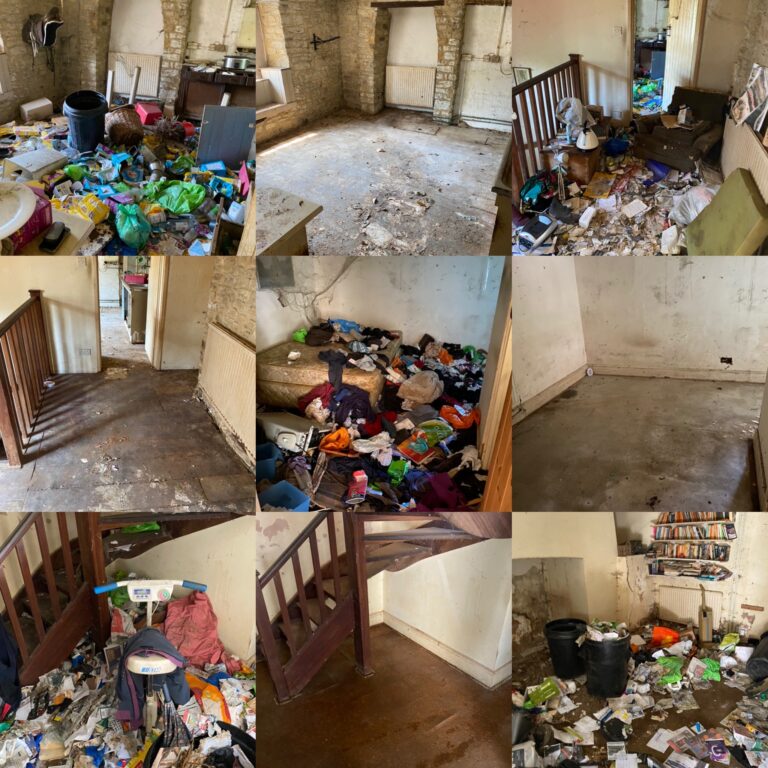 Hoarder property clearance is increasingly required in Oxfordshire and our trained clearance teams are experts in handling these jobs. We understand that hoarding items is sometimes an illness or disorder where someone acquires an excessive number of items and stores them in a chaotic manner, usually resulting in unmanageable amounts of clutter. The items can be of little or no monetary value. The person, maybe living or deceased; but either way the property and the hoarded items will be cleared with compassion, sensitivity and professionalism.
Our team is experienced, qualified and provide great customer service, making us a great choice to help you with your Oxfordshire or Gloucestershire property clear up. Whether you need a full clearance service or simply need to remove a few items. Windrush Valley House Clearance can help.
Clearing out premises is time-consuming and there are often obstacles and dangers unknown to the untrained eye. This is why it is important to hire a professional hoarder property clearance service.
There are potentially over 1.2 million people in the UK that are considered 'hoarders'.
Symptoms of hoarding may include …
Finding it difficult to have a hoarder property clearance carried out, or part with possessions, immaterial of the value.
The individual will experience a strong desire to save items for recycling or safe keeping and feel distress when getting rid of them. These items will fill up and clutter the home or workplace to such an extent that a kitchen can't be used to cook in, or they may store the items in Hall ways, making it dangerous to pass by; or they may fill a bedroom making it impossible to sleep in.
Symptoms may also be accompanied by excessive collecting, buying or sometimes the stealing of items that are not needed or for which there is no space to put them.
In our experience we have found that 40% of everything stored is food waste and liquids which can make the person extremely ill, especially if the food waste is being stored in the kitchen near food prep areas.
Some sufferers will have a good understanding of why they began hoarding and recognise that they need help. Others will be convinced that their hoarding is normal and are reluctant to seek help, causing distress to family and friends. Councils may be forced to intervene when possessions become more visible in areas, such as gardens, alleyways and porches because neighbours can become affected. In addition, these items sometimes include left-over food, which in many cases attracts vermin.
It may be useful to use the 'Clutter Image Rating' tool where you will be shown pictures of clutter and you can choose which ones match your situation.
You can download a copy from www.hoardingdisordersuk.org or www.helpforhoarders.co.uk.
Arranging a hoarder property clearance and clean up is as easy as 1,2,3
Questions you may have before deciding to use our service.
Oxford, Abingdon, Bicester, Wantage, Gloucester, Lechlade, Stow, Bourton on the Water, Cheltenham, Witney, Swindon, Oxfordshire, Wiltshire and Gloucestershire
Household Waste and Items we can clear
We can takeaway and legally dispose of all the following household and commercial items from your Property:
Gas and electric cookers
Washing Machines and Tumble dryers
Fridges and Freezers (Even the American Fridge freezers)
Cutlery, Pots and Pans
General Bric a brac
Carpets, Wooden flooring, Rugs, Underlay and Lino
3 piece suites and Sofas
Clothing, Linen, Bedding etc
Electrical's from your Kettle to your Toaster
Large Televisions
Fitted bedroom suites and Dinning room suites
Wardrobes, Sideboards and all Large bulky furniture
Toys, Soft Furnishings, Books, Paper and cardboard
Metal and Wood
Garden Furniture
Stair lifts (provided they have a standard fitting)
Garden Sheds and Green Houses
Green waste and Foliage
Gardens cut back and tidied
Motor Vehicles, from Cars to Motor bikes
Hoarder Property clearance
If you are unsure then give us a call to discuss your needs.
Let us know what your hoarder property clearance requirements are?
Clients we are proud to work with.